The 'Moonwalking in Calabasas' rapper was released on a $35,000 bond on June 7 after he's arrested one day earlier as the authorities found a gun in his Lamborghini.
AceShowbiz –DDG released his first statement following his gun possession arrest only to be ridiculed. The "Moonwalking in Calabasas" rapper was mocked after social media critics noticed that he lied about his height in his message.
Making use of Instagram Story on Thursday, June 9, the 24-year-old emcee wrote, "As a 6'5 brown skinned male.. i go through so much s**t daily." He further noted that "the average person would never understand" it.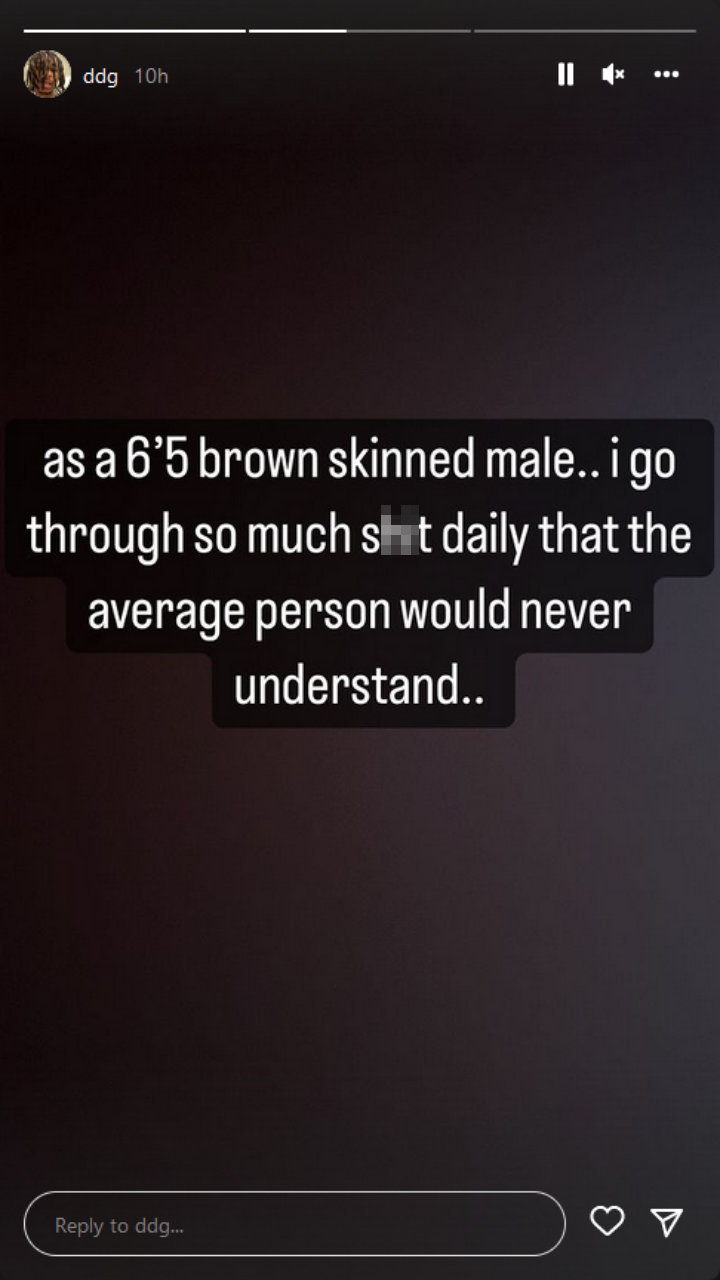 DDG wrote via Instagram Story after he's released from jail following his gun possession arrest.
Shortly after his statement was posted, a celebrity gossip Instagram account GotDaScoop re-posted his Story along with a police record of his arrest. In the legal document, it's written that his height is 5'9. "Not #DDG lying about his height [weary and laughing with tears emoji]. He must be trolling. He said it's hard as a 6'5 brown skinned male, meanwhile he's only 5'9," read the post caption.
In the comment section, Instagram users found DDG's attempt to make himself taller funny. "Let him manifest," one person commented with a laughing with tears emoji. Another said, "Definitely trolling." A third opined, "All 5'9 dudes wear they are 6ft," with a fourth agreeing, "Bro playin. His homies posted sumn similar and then he did it."
Earlier that day, DDG also turned to his Twitter account to seemingly express his feelings following his arrest. The boyfriend of Halle Bailey tweeted, "The devil working overtime to stop these blessings."

DDG seemingly expressed his feelings after being taken into police custody.
DDG was taken into police custody around 9:30 P.M. on June 6 after he was pulled over by the Los Angeles Police Department. When officers searched his Lamborghini, they found a gun, leading to his arrest.
DDG, whose real name is Darryl Dwayne Granberry Jr., was later booked in Valley Jail on a $35,000 bond, but he was let go from prison on June 7 after posting his bond. The "Hood Melody" spitter is set to make a court appearance on June 28 at 8:30 A.M.
Source: Read Full Article