The 76-year-old singer has been dating the 37-year-old since November, the couple allegedly ended their relationship 'a couple of weeks ago' with an unknown reason.
AceShowbiz –Cher has reportedly split from her rumoured fiance Alexander Edwards a.k.a. "AE". The "If I Could Turn Back Time" singer has been dating Alexander since November, but a source told TMZ on Monday, May 2, the couple ended their relationship "a couple of weeks ago," though a reason for the split was not disclosed.
TMZ also said an insider had told them the pair "were never even engaged, despite multiple reports to the contrary," adding they had just decided to "play into the speculation it was an engagement ring" AE had given the singer in December, which was worth a reported $250,000.
Cher said at the time that she wished she could show her late mother, Georgia Holt, the ring. The 76-year-old tweeted, "Woke up Min ago, and 1st thing… B4 I Opened my eyes, I Thought… I Need 2 Run To Moms and Show Her my ring."

Cher sparked engagement rumors with AE.
Alexander gushed in March Cher was "amazing" with his son. The 37-year-old rapper has son Slash Electric, three, with his 39-year-old model ex-girlfriend Amber Rose, while Cher has kids Chaz Bono, 54, and 46-year-old Elijah Blue Allman. He told TMZ, "Chaz is my guy and Elijah, Chaz and Elijah are my guys."
When asked if Cher was a good stepmother to his son, he added, "She is amazing." And when quizzed about what made him fall in love with the singer and actress, he said, "Just Cher being Cher."
He also said he was focusing on raising his son now when asked if he wanted a kid with the singer. Referencing Amber's 10-year-old son who she had with her rapper ex-husband Wiz Khalifa, 35, he added, "You know right now I'm just focused on Slash, my son, and his brother Sebastian."
Rumours Cher and Alexander were engaged started on Christmas Day when Cher shared a photo of a diamond ring being held by Alexander alongside the caption, "THERE R NO WORDS, ALEXANDER, A.E."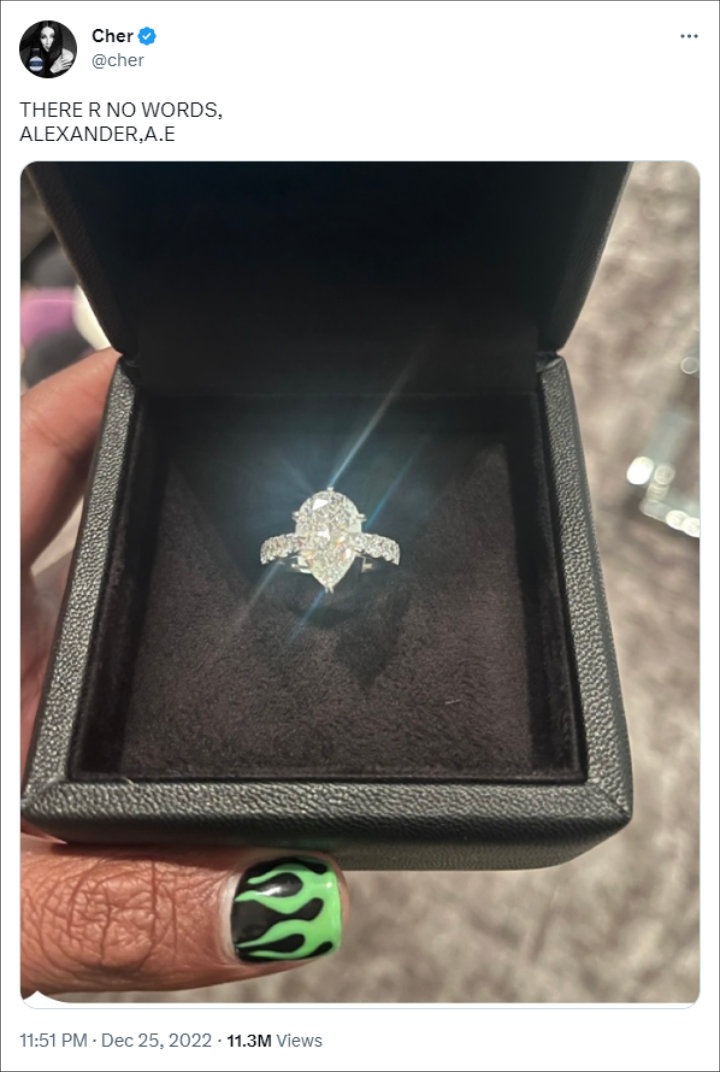 Cher showed a ring from AE.
The singer has defended her and Alexander's age gap and relationship by insisting they love each other. Last year she said they "kiss like teenagers" and has declared, "Love doesn't know math, it sees."
She added in December, "On paper, it's kind of ridiculous. But in real life, we get along great… and I think he's quite handsome". The couple first made headlines in November when they were photographed after a dinner date in Los Angeles holding hands.
Cher previously dated Tom Cruise, when they had a 16-year age gap. She has also been married twice, to Sonny Bono from 1964 to 1975 and Gregg Allman from 1975 to 1979, and had son Chaz and Elijah with the late musicians respectively.
You can share this post!
Source: Read Full Article