Amanda Seyfried recently spoke about the "wildest thing" she's ever done for a role, and the answer might just break your heart on this lovely Wednesday afternoon.
"I have dreams that I'm still auditioning for Wicked," she revealed to Backstage in a July 19 interview about the musical's new film adaptation. "Last summer while I was playing Elizabeth [Holmes] on the weekends, I was auditioning in person to play Glinda in the movie version of Wicked—because I wanted it that much that I was like, 'You know what? Yeah, I have to play the last scene of The Dropout on Tuesday. I'll give my Sunday to you.' I literally bent over backwards while playing the hardest role of my life," she continued. *Grabs Kleenex* *Petitions to change the script and have two Glindas in the final cut*
https://www.instagram.com/p/Ccf8jSylH1H/?utm_source=ig_embed&utm_campaign=loading
A post shared by The Dropout (@thedropouthulu)
Though we now know it was ultimately Ariana Grande who earned the coveted role—which, BTW, was also campaigned for by Anna Kendrick—Amanda said the experience was a true lesson for her, regardless of the outcome for herself.
"I think it also taught me how far I've come as a singer, which I really wanted to prove…Because ever since [Les Misérables], I was like, I need to be better. I need to do better. So, whatever comes next in terms of musicals, I'm finally prepared," she finished.
This isn't the first time the actor has spoken about her dreams of landing the Glinda role. In April 2021, Amanda told the Variety's Award Circuit podcast that she sent Jon M. Chu (the film director of the new Wicked) a recording of herself singing the song "Popular" in the hopes it would land her the part.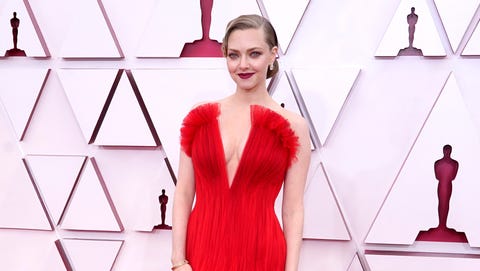 Though there have been rumors of a Wicked big screen version since 2004, it was only a couple of years ago that producer Marc Platt confirmed the project was indeed in development. That's why even back in 2015 when Entertainment Tonight spoke with Amanda, she gave her honest take on her feelings about the iconic character Glinda, which was originated on Broadway by Kristin Chenoweth: "I might be too old when they make it. Or if they make it sooner than later, maybe I'm not the right person," she said at the time. "I just still—I want it. I want to present myself and be a good candidate."
If she made it that far in the audition process, clearly she did something right! And TBH, if if the recent ABBA music revival/general craze is any indication, I'd be willing to bet that what the people need now more than ever is another Mamma Mia! Now *that* would truly be the gift that keeps on giving.
Source: Read Full Article