The coronavirus pandemic finally seems to be ending, and plenty of gyms are starting to open. Not mine. Not yet. And there's a reason for that. Despite fearing that I may lose my business I'm even more fearful of putting my community at risk. I want to be as safe as possible and take it one step at a time.
But don't get me wrong, I need my spin studio, Harlem Cycle, open. My business cannot sustain additional months of closure, and my mental health can not take anymore days of virtual training only. I am at my best when I can be in front of a group of people, and here we are, 14 months after the pandemic started, and I'm still teaching to a screen and slowly watching the little savings that I accumulated dwindle away.
So, if anyone wants to get back to in-person fitness classes it's me. This year has left me feeling lost, anxious, and isolated. Without the joy of my team and our clients, working on Harlem Cycle has been quite hard. As a solopreneur I spend most of my days working in isolation, making business decisions, reassessing and refining our brand fundamentals, and creating strategies and content that continue to serve the needs of our clients and team. I opened Harlem Cycle five years ago, and we had over 400 monthly members before the pandemic. These past 14 months have been taxing both emotionally and financially.
It's Been a Struggle to Stay in Business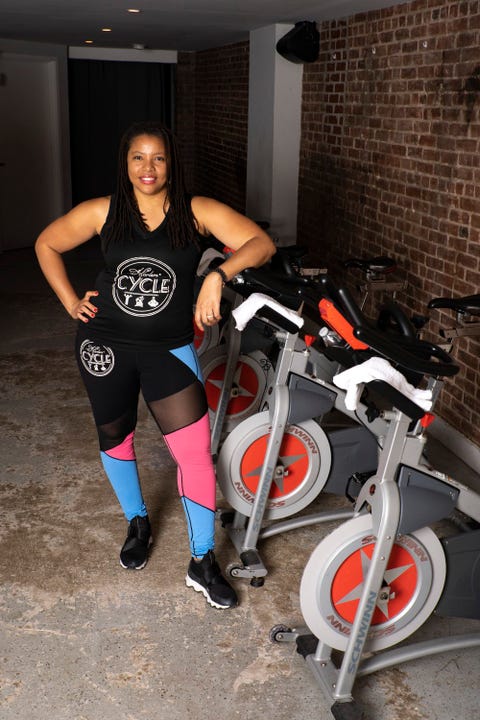 In the past year I've applied to over 70 private grants and have been lucky to receive enough funds to keep our lights on. I've had understanding landlords that worked with me during the months I couldn't make rent. Our clients have supported us by renting our bikes and have contributed to campaigns to help us rebuild and upgrade our studio after a break-in in October. Among gym owners, I know I'm considered one of the "lucky" ones. But, with private grants slowly dwindling, financially this is not sustainable. This year, I've only received three of the 15 private grants I've applied for. Our virtual livestream classes provide on average about 10% of the revenue from 2019 and all livestream revenue goes directly to my instructors, so the studio makes almost nothing from those classes.
Frankly, we are all exhausted! My team is exhausted from trying to drive excitement to a screen and eager to be surrounded by the energy of our clients. Our clients are exhausted from zoom and are looking for in person connections. I myself am personally exhausted from pivoting my business every couple of weeks to provide virtual, on demand, IG Lives, bike rentals, outdoor classes and community hikes and rides to keep us all moving. Despite all this pivoting, I still feel personal disappointment for not being able to deliver the same energy, community, and vibe that we do in studio classes.
I am in a state of constant anguish as I take personal responsibility for my team not being able to teach the kind of class they initially signed up for and I take it to heart that our studio isn't able to provide our clients with the wellness outlet and community connection they need.
Why We Don't Want to Open Yet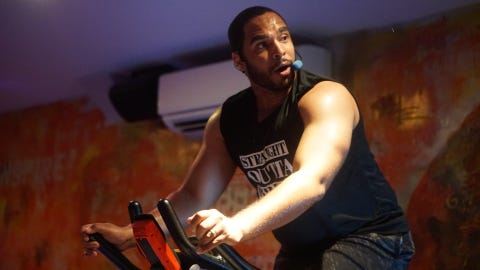 Despite Governor Cuomo's announcement on March 17th , that group fitness classes could return, we are keeping our doors closed and waiting to see how the reopening data shakes out. As a former engineer, I always follow science and data and right now I see no reason to change.
As a community, Harlem was hit hard by COVID with 1 out of every 14 residents receiving a positive diagnosis. And now with the businesses going to 100% capacity and the new no mask for vaccinated individuals recommendation recently issued by the CDC, my fear is that we may move too fast and hurt the community in the process. So many of our members have small children at home, and we just can not risk going without masks. So, I'm going to take the wait and see approach and move super cautiously knowing that I potentially risk losing my clients and team to other studios.
Sadly, this never-ending fear of potentially not being able to ever reopen instead of opening too soon and hurting my community is what I oscillate between each day. But that doesn't mean I am not getting ready! Daily I check the numbers, while working on our reopening strategy and safety protocols. As we plan our reopening for late June we will require masks, do temperature checks, add new air filtration systems to our space, maintain social distancing and increase our hand sanitizing stations and increase our cleaning protocols. As the vaccination rate increases, and with a month of data from the city moving away from masks hopefully we can move away from requiring them within our class. Once we reopen I will move very cautiously to protect everyone that comes in our doors.
I've seen my fellow studio owners who have already opened their doors take these necessary precautions and I plan on following suit. I am watching and learning from all of them, while continuing to use data as part of my strategy. I've waited over a year for this moment but despite the Governor's blessing, our community's eagerness to return and my personal desire to be back to normal, I am going to continue to watch and follow the numbers, trusting that our clients and team will appreciate this cautionary approach. I'm super excited to see our community come back stronger, together!
Source: Read Full Article