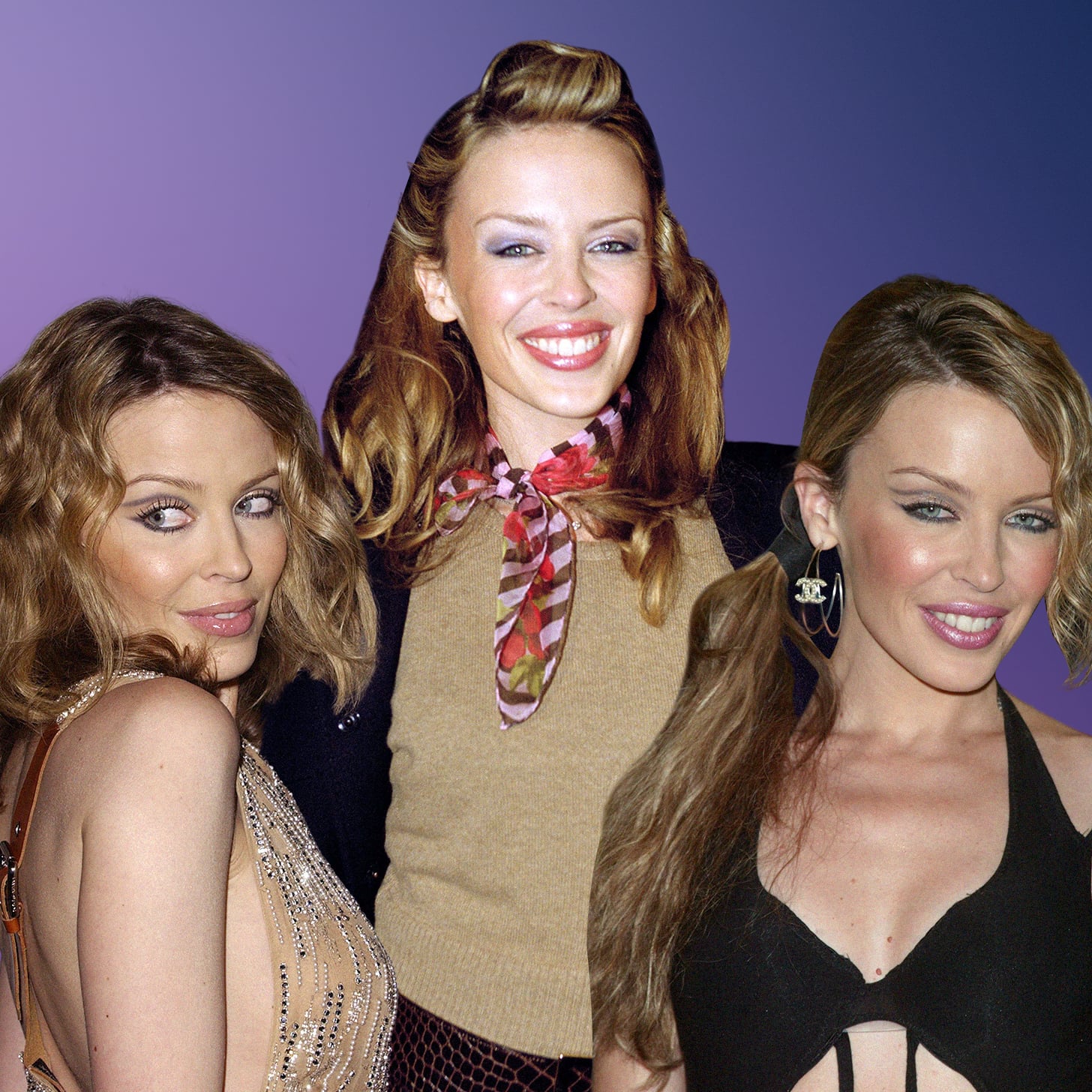 Image Source: Getty / Steve Granitz, Justin Goff, and Jim Spellman and Photo Illustration: Michelle Alfonso
If you're one of the millions of people who can't sit still upon hearing one of Kylie Minogue's infectious songs, you're most definitely not alone. Who can resist the 2000s-era bops like "Can't Get You Out of My Head," "In My Arms," and "Love at First Sight"? There's no denying that hearing them today probably invokes a wave of nostalgia — much like the hair and makeup trends from the early aughts that happen to be popping up all over again (brown liner and lip gloss, anyone?).
Being that Minogue has been a fixture in the music (and beauty) industry for more than three decades, you can imagine she's tried her fair share of 2000s beauty trends over the years, whether on stage, in her music videos, or on the red carpet. That's why we were excited to chat with the star about her favorite fads making a comeback as well as the launch of her new fragrance, Disco Darling. "I lived and loved all of the noughties trends, so I love seeing the looks back in vogue and a whole new generation discovering and reinterpreting them," Minogue tells POPSUGAR.
With everything old feeling new (and cool) again, it felt like the perfect time to ask the Australian singer/songwriter which ones she's most excited about. Keep reading for Minogue's favorite Y2K beauty trends getting their long awaited return.
Y2K Beauty Trend: Celebrity Fragrances
Millennials may recall that during that era, celebrity fragrances were popping up left and right, very much like today's boom in celebrity skin-care and makeup lines. This is a trend the singer remembers fondly. "My fragrance journey started in the mid-2000s, so I was part of that wave of celebrity fragrances," Minogue tells POPSUGAR, referring to the launch of her first perfume at the time called Darling. "I think we were all so inspired by the original celebrity fragrance by Elizabeth Taylor. They were heady times in the industry and, after a while, there were just too many on the market and they kind of went out of fashion. Now, they are back — and I'm so thrilled."
In 2021, Minogue re-released an updated version of Darling due to popular demand. "That really took me by surprise; I was so moved that this fragrance still had so much love," she says. "It propelled me to deep dive back into Kylie Minogue Parfums, and for the first time, bring my fragrances to the US." This inspired the launch of her latest scent, Disco Darling, which she describes as "magnetic," "warm," and "makes you feel sensual, daring, and vibrant." The name is also a nod to her most recent album, Disco.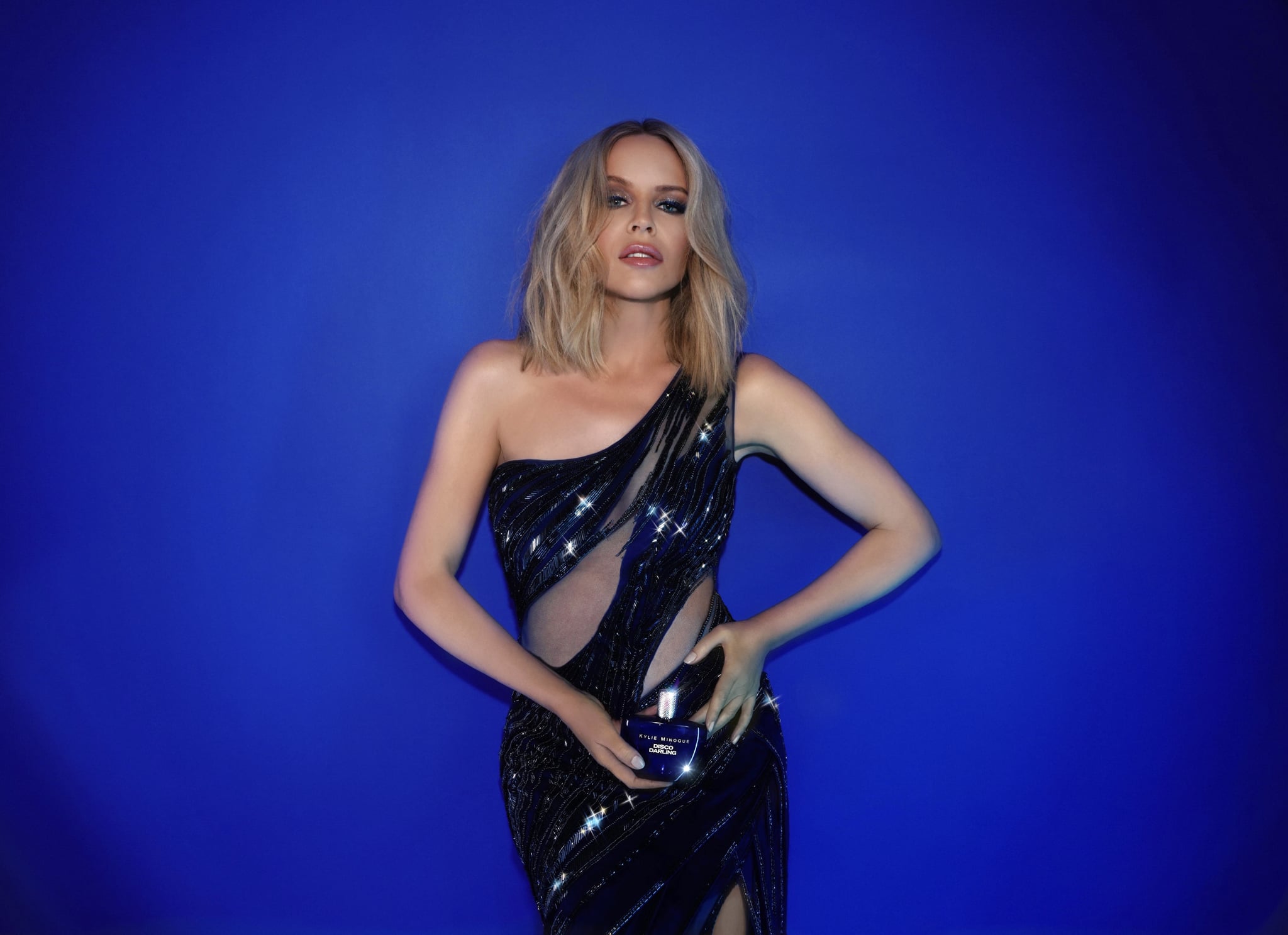 Image Source: Scent Beauty
"Disco Darling is Darling's alter ego," she says. "I wanted to create a new fragrance that could be the perfect scent for a night out, an elegant and more daring interpretation of sensuality. We wanted to mirror the excitement, mystery, abandon and exuberance of the dance floor."
Y2K Beauty Trend: Frosted Makeup
While Minogue says each of the beauty looks from the early aughts have a "freshness and youthfulness" to them, and therefore are a welcome return, there's one re-emerging trend she's especially excited to embrace yet again: frosted eyeshadow and lip gloss. "We've done shimmer, we've done glitter, maybe frost is coming out of the shade," she says.
It doesn't have to stop at the eyes and lips, either: "Where I have already leaned in to a noughties trend is my renewed love of the super highlight on the brow bone. [Now all] I need is a fake tan, some glossier-than-glossy lip and a frosted eyeshadow. Let's go."
Y2K Beauty Trend: Pops of Color
As a true symbol of the era, the Grammy Award-winning artist also hopes to see more pops of color within neutral makeup looks take the place of monochromatic moments we've been seeing the last few years. "One of my favorite [trends] from the time was the neutral tones with one accent feature, much like the makeup from my video for 'Love At First Sight,' where the teal eye color was the star."
This feels fitting to Minogue's overall aesthetic these days, which often features a neutral taupe pencil that "doubles up as a blendable eyeshadow, an eyebrow pencil, and a lip liner." The only thing left to add, then, is a pop of color on the lips or cheeks.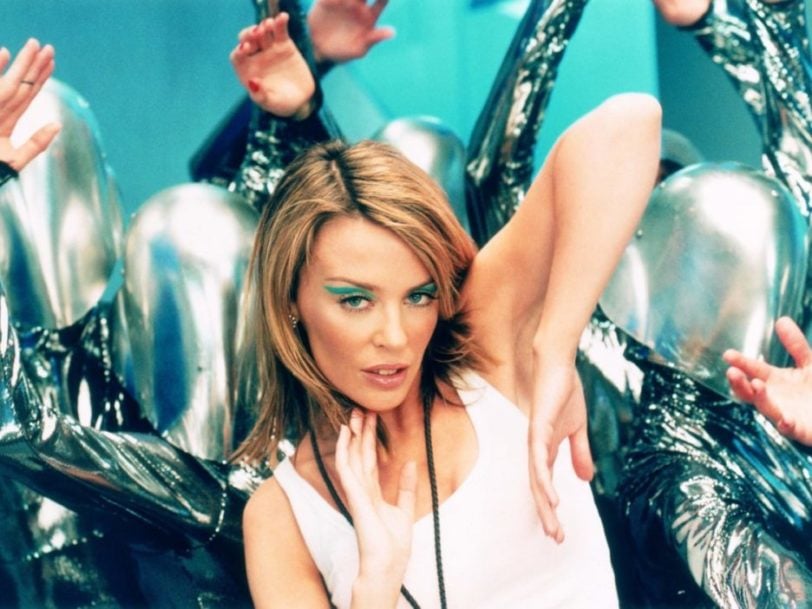 Image Source: Scent Beauty
The Y2K Beauty Trend That Can Stay in the Past
As for the one beauty look she agrees can stay in the rearview mirror? Minogue says, "I'll forever be nostalgic for them all, but if I had to choose one, it would be the overplucked eyebrows. This is to protect everyone's future eyebrow options."
Source: Read Full Article