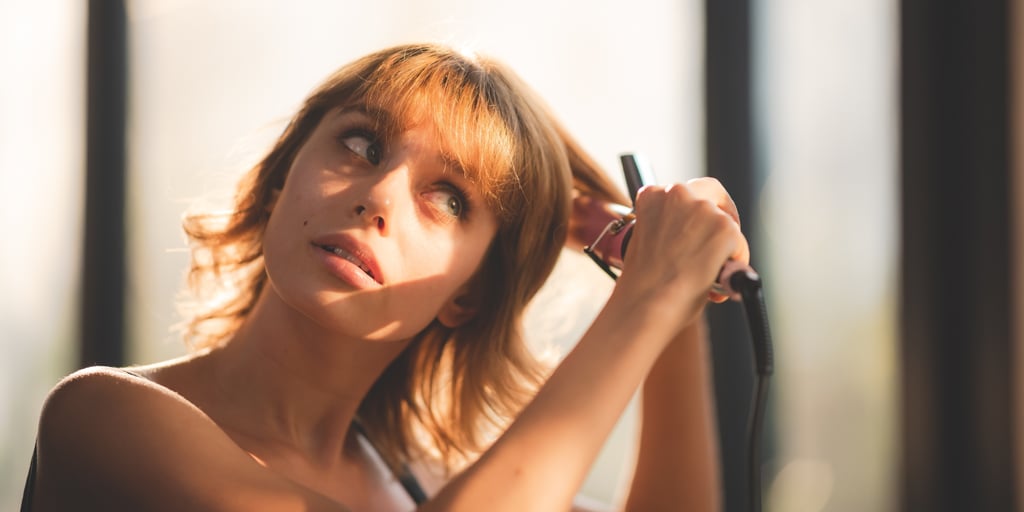 Styling Tips and Product Recommendations for Thin Hair

Thin refers to the texture of hair, when there is less density of hair per square inch.
Stick to gentle and clarifying shampoos and conditioners with as little oil as possible.
For lift and fullness, look to products like thickening and texturizing sprays.
Just like our bodies come in different shapes and sizes, so does our hair — and each hair type needs special consideration. Whether your hair is naturally curly, wavy, or straight, there are also hair textures to keep in mind. Think: fine, thin, course, and so on. Here, we're addressing those with thin hair.
First off, know that although fine and thin are often used interchangeably, if we're going to get technical, thin hair means you have less density (or amount) of hair per square inch. Fine refers to the actual narrowness in diameter of the hair strand — but you could still have tons of hair on your head.
Of course, every hair type and texture can have a mind of its own and thin hair may require different things for different types when it comes to styling, cutting, and caring for it. That's why we talked to hair experts to give us the details on all things thin hair.
How to Care for Thin Hair
If your hair is thin, chances are you shampoo it pretty regularly so that it doesn't get weighed down by oil or products. But you don't want to over-wash and create damage or dryness, so most experts agree that it's OK to wash thin hair every other day. If you condition, use something lightweight and be sure to keep it away from your scalp, instead focusing from the middle of the hair shaft down to the ends.
When it comes to everyday care, you want to be gentle to preserve and optimize your hair. With brushing, start form the bottom of your hair and work up on small sections at time, says Lars Skjøth, founder and head research scientist of Harklinikken, a brand known for its treatment protocol to help people grow stronger, longer, thicker hair. And go easy on wet hair: "Water weakens the bonds within strands of hair, removing up to one-third of its strength," he explains. "Wet or damp hair can therefore be more easily broken, ripped, or torn out when combing or brushing."
How to Part Thin Hair
Because your follicles may be spread out a bit, your scalp might be visible. You can create optical illusions to make hair seem fuller, if that's your objective. "Try parting your hair on the opposite side than normal or use a deep side part," says Nunzio Saviano, stylist and owner of Nunzio Saviano Salon. This can help create the appearance of extra volume at the crown of the head and conceal thinning areas. He also suggests using root touch-up products like Rita Hazan Root Concealer Touch Up Spray to fill in sparseness.
Products For Thin Hair
Hair goals for thin hair likely involve lift and fullness. Stylist Miguel Luis of New York City-based Rita Hazan Salon is a fan of using a duo of a thickener like Oribe Maximista Thickening Spray and a volumizer like Oribe Thick Dry Finishing Spray. "I use the thickening spray on damp hair at the root to create lift and the finishing spray on dry hair to add overall fullness to the style," he says. An important part of Luis's method: flipping the head over when using the finishing spray. "If I forget, trust me, my clients will remind me," he says.
You can also opt for a texturizing product to add body, but he warns that over-texturizing can create clumping and thinner-looking hair, so less is more. Also, check the ingredient list on your products. "For styling thin hair, I recommend light products with the least oil possible," says stylist Fabian Lliguin, co-founder of Rahua. Note that if you're going to use a bunch of styling products regularly, it may be a good idea to enlist a clarifying shampoo like Nunzio Saviano Detox Hair & Scalp Gentle Shampoo weekly to remove build-up.
Cuts That Look Best for Thin Hair
Of course, you want to pick a look that you're into, whether it optimizes your texture and type or not. But if your vision involves creating fullness, then generally speaking, short styles vibe well with thin strands. When hair is longer, it can read stringy. If you do want to go for length, then long layers are best. If hair is extra fine, the trick may be to add extra texture at the crown and choppy layers throughout, says Lliguin.
Luis is a fan of bobs, layered lobs, and choppy pixies to give the illusion of body. Once again, layers are the name of the game to create movement and a flattering shape. Also, be sure to get your hair cut regularly. "The whole point is to not hold onto straggly ends with thin hair," says Luis. "A clean, fresh cut will always make the hair appear healthy and therefore fuller."
Best Thin Hair Styling Inspiration
Source: Read Full Article